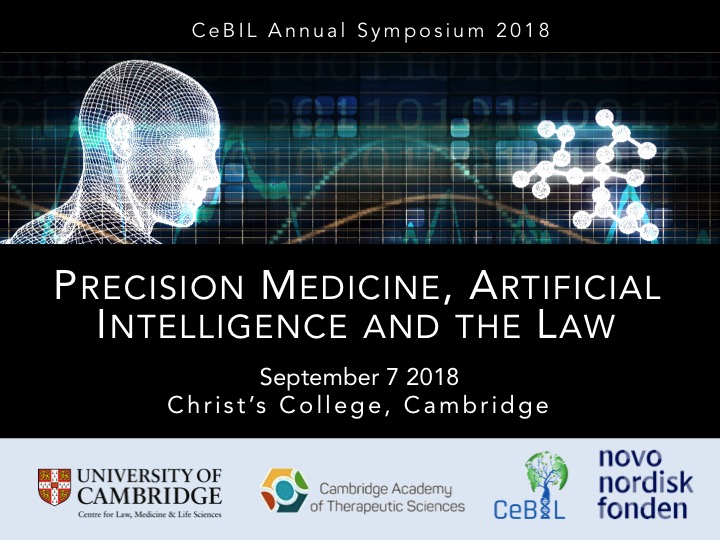 On Friday 7th September, LML hosted the CeBIL Annual Symposium 2018: 'Precision Medicine, Artificial Intelligence and the Law'. This was the first of five annual symposia to be held in Cambridge as part of LML's involvement in the Novo Nordisk Foundation's Collaborative Research Programme in Biomedical Innovation Law, directed by Prof. Timo Minssen at the University of Copenhagen's Center for Advanced Studies in Biomedical Innovation Law.
Each year, the symposium addresses one of CeBIL's five core research projects. In 2018, the Symposium focussed on 'Precision Medicine, Artificial Intelligence and the Law', reflecting the PMAIL project led by Professor I. Glenn Cohen at the Petrie-Flom Center for Health Law Policy, Biotechnology and Bioethics at Harvard Law School, together with Professor Nicholson Price (University of Michigan) and Professor Timo Minssen (University of Copenhagen).
The Symposium tackled some of the challenging legal and regulatory issues raised by black-box precision medicine. 
Professor Cohen opened the first session with a discussion of big data and predictive analytics. He was then joined by Sara Gerke (Research Fellow for the PMAIL project), who gave an outline of plans for future PMAIL research. This was followed by a panel discussion between Professor Chris Lowe, Dr Stuart Hogarth and Dr Richard Dybowski. Professor Chris Lowe encouraged more discussion of key definitions (such as 'black-box', and 'precision') and critical reflection on the extent to which problems are 'new' or rather echoes of familiar, long-running tensions in the practice of medicine. Dr Stuart Hogarth drew attention to the political economy of the emerging precision medicine field, and Dr Richard Dybowski urged legal, ethical and social research to monitor the way that machine learning is being put together at 'the coalface'. Dialogue has led to principles of good practice and good algorithmic 
The second session of the Symposium focused on intellectual property and the black box. Dr Kathy Liddell (Director of LML) commenced the session with a brief outline of three key US Supreme Court cases in this area: Myriad, Mayo and Alice, which featured heavily in the following presentations.
In particular, this session was an opportunity for LML members Professor Mateo Aboy and Dr John Liddicoat to present the results of some of LML's recent empirical research. Prof. Aboy focussed on the impact of important cases on the grant of patents, and several LML studies that have been recently published or reviewed. For instance he spoke about the magnitude of Myriad's impact on gene-related patents, isolated DNA patents and nature-based products beyond DNA. He also spoke about the magnitude of Mayo's impact on the grant of biotechnological patents, and the implications of that case for patent prosecution timelines. He also introduced current research that the LML group are doing in relation to the magnitude of Alice's impact on biotechnological inventions.
Dr Liddicoat presented recent results from interviews designed to investigate the ways in which Myriad and Mayo have affected the development of diagnostic tests in the US and in Europe. Professor Jacob Sherkow (New York Law School) rounded off the IP session by discussing concerns about surrogate licensing in the US. In the ensuing discussion is was reassuring to learn that 'Oxbridge' tech transfer licensing policies are globally-respected.
The Symposium's third session looked at regulation governing 'the black box' as a medical device. The presentations offered perspectives from academia and public authorities, including the US Food and Drug Administration (FDA) and UK Medicines and Healthcare products Regulatory Agency (MHRA). Dr Alberto Gutierrez (former Director of the FDA's Office of In Vitro Diagnostic Device Evaluation and Safety), Professor Nicholson Price (Michigan Law School) and Stephen Lee (MHRA) offered different models and ideas for regulating black box medicine. Questions of liability in this area are of significant interest to LML, as Dr Jeff Skopek (Deputy Director of LML) was recently awarded a grant by the Wellcome Trust to study liability for uses of AI in the healthcare context.
The final session of the day, facilitated by Dr Tom Ling (RAND Europe), was highly interactive. Dr Ling encouraged audience members to voice what they had found most interesting and illuminating, and to debate ideas and issues drawing on their own backgrounds and perspectives. There was also a panel discussion about the future challenges of black box precision medicine, involving Professor Timo Minssen, Alison Dennis (Fieldfisher), Manuel Corpas (Cambridge Precision Medicine), Dr Victoria Chico (University of Sheffield, and Dr Jonathan Darrow (Harvard Medical School). 
The Symposium was very well-attended, with large numbers attending from the Cambridge biomedical environs as well as international representatives from Australia, Ireland, Belgium, the US, Canada. The audience was wonderfully lively and engaged, and the Symposium exceeded our expectations. 
The second Annual CeBIL Symposium is likely to take place in September 2019.